How to watch The Grand Tour which starts in Autumn 2016 on Amazon Prime featuring Jeremy Clarkson, Richard Hammond and James May. The new show will be available to view on Amazon's Prime Video streaming service.
So what is Amazon Prime? An how can you watch The Grand Tour on Amazon Prime?
Welcome to the new world of on-demand television. For many people this will mark a significant departure from normal TV viewing.
What is Amazon Prime?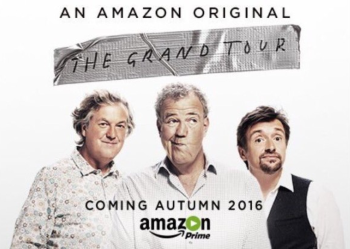 Amazon Prime is a service offered by Amazon which includes free next-day delivery on products bought online at Amazon and also includes access to a library of films, television programs (Amazon Prime Instant Video) and music (Amazon Prime Music) through your home internet connection.
In other words an Amazon Prime subscription allows you to watch programs by streaming them over your broadband rather than them being delivered through your TV aerial or satellite dish.
On-Demand means that you can choose when to watch the program. There is no schedule to miss. You decide what you want to watch and when you want to watch it.
The Grand Tour is being made by Amazon to be shown exclusively on Amazon Prime. This means that to be able to watch The Grand Tour, you, your family or friend needs to be a subscriber to Amazon's Prime service.
Is Amazon Prime Free?
Now that would be nice but unfortunately, no. Amazon Prime costs £79 per year in the UK.
However there is a 30 day Free Trial of Amazon Prime. If you sign up as a subscriber to Amazon Prime you get the first 30 days Free.
If you don't like it, or just don't want it to continue your Amazon Prime subscription after the 30 days, simply cancel the subscription before the Free Trial period expires and you will pay nothing.
How to Subscribe to Amazon Prime Free Trial
Simply click the Amazon image below to be directed to more information about Amazon Prime Instant Video and watching The Grand Tour this Autumn.

How to Watch The Grand Tour on Amazon Prime
Since Amazon Prime is streamed over the internet you don't have to watch it on your television. You can still watch it on TV if you wish, but you can also watch it on your laptop, PC, tablet, phone or games console.
The only requirement is that you have an Amazon Prime subscription and a compatible device.
How to Watch Amazon Prime on your TV
If you have a Smart TV you can download the Amazon Prime app, login and start viewing.
If you have a slightly older TV you can use a variety of devices connected to your TV to allow you to watch The Grand Tour on your TV.
For example, Amazon's Fire TV or Google's Chromecast (requires a tablet, smartphone or similar device to select and cast the program).
If you have a games console like the PS3 or PS4, you can download the Amazon Prime app and watch programs like The Grand Tour on your TV.
Related Posts: