If you are lucky enough to be going to Las Vegas you will want to spend your time as profitably as possible.  While you will probably spend some time and money in the casinos, there are so many other exciting and wonderful things to see and do on your trip.  Take a look at some of the highlights you won't want to miss before you go home.
Gondolas and the Sky at the Venetian
You've seen the gondolas in pictures and on TV, but nothing quite prepares you for the whole atmosphere at the Venetian.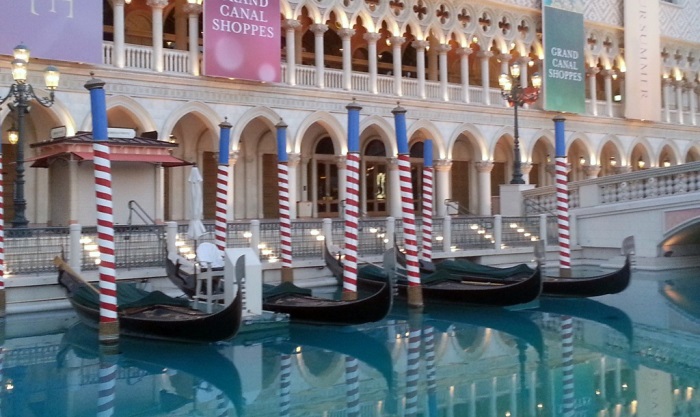 The canal snakes it's way through shops and cafes, and it is easy to forget that you are still in the hotel.
But to have your breath taken away, all you have to do is look up.  The 'sky' is a wonder.  A crystal clear blue sky with wisps of fluffy white clouds, perfectly lit.
And to top it all off, the whole thing is upstairs.  Yes, the whole canal full of water and everything isn't on the ground floor.
They thought, I know what would make this even more impressive, build it up a level!
The Bellagio Fountains
You are bound to have seen it on TV and films like Ocean's Eleven, but nothing beats the sight of the fountains at the Bellagio hotel in real life.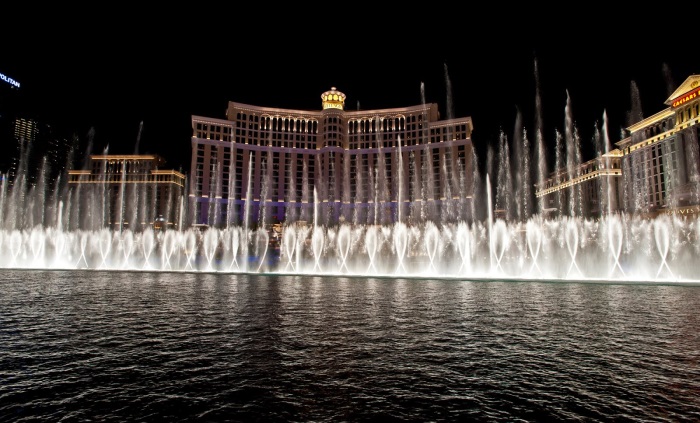 Show times are every 30 minutes during the day and every 15 minutes in the evening.  Check the Bellagio website for exact times on the say you want to visit.
This is a free show and well worth taking advantage of.  There are dozens of different musical choreographed displays so you are guaranteed to be wowed and amazed by the variety of this oasis in the desert.
3600 Las Vegas Blvd. South, Las Vegas, NV 89109
(702) 693 7111
The Sirens of TI show
The Sirens of TI is a free outdoor performance at the Treasure Island (TI) hotel.  It lasts about 20 minutes and performances are roughly every 90 minutes nightly, but check the website for exact times.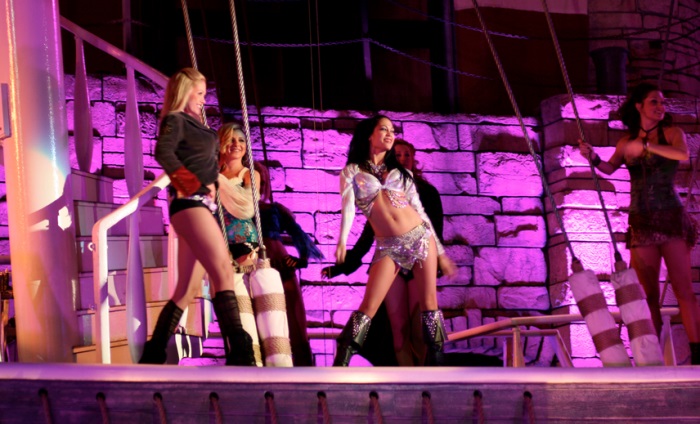 Parental guidance is recommended but if anyone is easily offended there may be more to worry about with some of the billboards in Vegas!
Prepare for fireworks and pirate sea battles with the sirens.  Good fun.  It's more of a singing and dancing, action adventure at sea, than anything saucy.
3300 S. Las Vegas Blvd., Las Vegas, NV 89109
(702) 894 7111
Gilleys at Treasure Island
Gilleys is a restaurant and bar complex on the Strip at the Treasure Island resort, right beside where the Sirens of TI show takes place.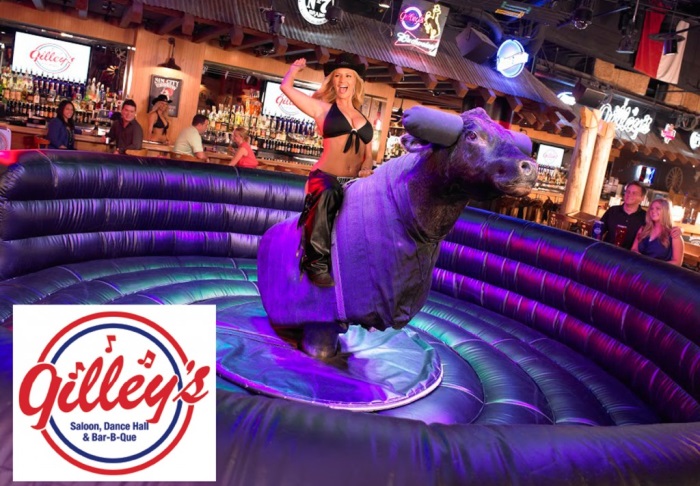 The restaurant offers mainly BBQ style food and lots of it.  Expect all sorts of tender glazed ribs and burgers topped with pulled pork and crispy onions or perhaps a generous ladle of Gilley Chili.  If you need something long and tall to wash that down, why not try the 100oz beer tower, ideal for a group.
The adjoining bar at Gilleys, the saloon, is definitely an experience to behold.  One minute you are listening to country karaoke, the next your eye is drawn by the waitress walking up in a black leather bikini, cowboy hat and black leather chaps.  Ride the mechanical bucking bull.  Or come back after your meal for some old fashioned girls in bikinis mudwrestling! (don't stand in the front row if you're planning to wear that shirt later)
3300 S. Las Vegas Blvd., Las Vegas, NV 89109
(702) 894 7111
The Freemont Street Experience
Catch the bus down to the end of the strip and you'll find Freemont Street.  It's part of the old Las Vegas with some of the old casinos which boast cheaper gambling and cheaper drinks.  But they have built a curved roof over about four blocks of Freemont Street and there are colourful shows displayed on the roof.
It's a combination of synchronised LED lights and sound to make a really cool experience.  Just before the shows start, the outside lights go out on the casinos and then the roof erupts in an explosion of colour.  Just be careful, as everyone is wandering around looking up, keep an eye on your pockets.
Cirque du Soleil
One of the totally must-see shows in Las Vegas, Cirque du Soleil is a feast of colour and acrobatics.  Expensive, yes, but probably one of the best evenings you can spend in Vegas.
Discount Firearms and Ammo Shooting Range
For many tourists, the very thought of shooting guns is alien to them.  But you're in America now and they just love their guns.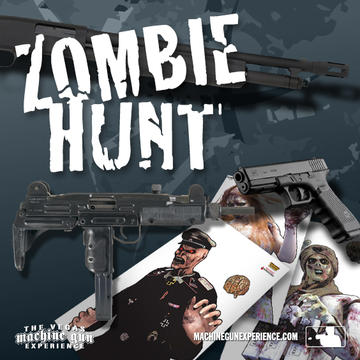 So why not take the opportunity to go shoot a few guns in a safe, fun, controlled environment.
Discount Firearms and Ammo Shooting Range isn't maybe the most advertised of the shooting ranges in Las Vegas, but some of the others are just too busy, you could be waiting for up to a couple of hours to get very little shooting time.
At this shooting range, they have a truly incredible selection of weapons on show.
You can bring your own gun to the range, or choose one of their packages where you get to shoot some of their guns.
For tourists, you are likely to choose one of their rental packages which could include guns you have only read about or seen on TV, like an Uzi, pump action shotgun, MP5 and M4 machine guns, Glock or Beretta pistols, to name just a few.
Try their Zombie Hunt or SWAT packages – A great way to take home some really unique memories.
3084 S. Highland Drive, Las Vegas, NV 89109
(702) 567 1158
The Boot Barn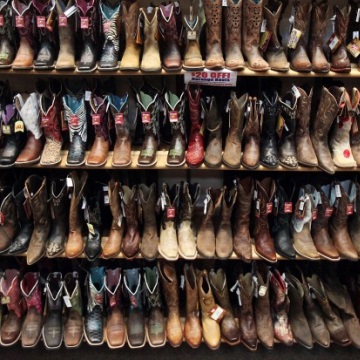 Whilst far from being exclusive to Las Vegas, in fact there are dozens of stores across the USA, the Boot Barn store in Las Vegas may be the one that international travellers are likely to come across.
In fact if you're renting a car while in Vegas, chances are this is one of the first places you will pass after you turn right out of the car rental complex.
If what you're looking for is a selection of hundreds of authentic cowboy boots in all sorts of leathers, to take that special souvenir home, something that you can actually wear and show off, this is the place to go.
They also stock all manner of western hats, belts, jackets, shirts and accessories.
Really friendly and helpful staff too.
7265 Las Vegas Blvd. South, Las Vegas, NV 89119
(702) 260 1888
Related Posts: