If you follow Real Housewives of Beverly Hills, you will already know Brandi Glanville. Married with two kids, she discovers that one woman is not enough for her husband. Caught in a love triangle, her husband ends up leaving her for country star LeAnn Rimes.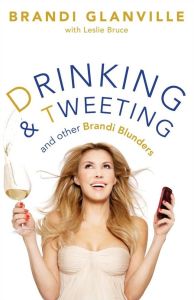 Now Brandi gets her opportunity to tell all in a no holds barred book Drinking and Tweeting where she recounts her side of the story. Well written and brutally honest account of someone who has sadly gone through a horrible time with a break up, the themes will be instantly recognisable to anyone who has been in a similar situation with a cheating partner. All this made so much more difficult being played out in the public eye.
She's known for her rivalries on The Real Housewives of Beverly Hills, her dramatic divorce, her flawless physique–and her inability to keep her mouth shut. And now, Brandi Glanville is ready to tell all in her hilarious, no-holds barred memoir.
Fans have been waiting for Brandi's scoop on one of the biggest divorces of the decade since Brandi's husband of seven years abandoned her and their two sons in 2009 to marry country singer, LeAnn Rimes. Now, not only will fans get Brandi's side of the split, they'll also get the full story of the lovable housewife's wild ride from the ghetto to Hollywood's most elite circles. For the first time, Brandi will share how she escaped a rough childhood on the outskirts of Sacramento with a drug-dealer father and stumbled into a successful modeling career that swept her into a world of Italian fashion shows, private jets, and plastic surgery.
Before she knew it, Brandi was the perfect Hollywood trophy wife–at least until her marriage exploded. Today, Brandi is a recent divorcee, mother of two and the newest member of Bravo's juggernaut franchise The Real Housewives of Beverly Hills. Known for being the refreshingly filter-free housewife and unapologetic mom, she refuses to be the scorned ex-wife, to be bullied, to keep her mouth shut, and, on occasion, to wear a bra.
Related Posts: