A real winter warmer, this fleecy heated under blanket for your bed will finally banish those cold winter nights.
With dual independent controls, you can heat either or both sides of the bed separately, and at different temperatures. So if your partner likes it hot, and you can't stand too much heat, both of you can be happy, so no more arguments.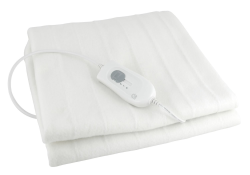 Each control can be set to three different heat settings, from 1 which is suitable for comfortable all night use, though to 3 which will probably only ever be needed on the very coldest nights as a pre-heat.
To pre-heat the bed, just turn on the heated underblanket a few minutes before going to bed, ten to fifteen minutes at setting 2 or 3 is more than enough to ensure a toasty bedtime experience.
This Lloytron Superior Single / Double / King Size Bed All Night Electric Heated Under Blanket
is available in a number of different bed sizes, from single to double to full king size, so there will be a size to fit all.
Make sure to check the actual measurements to make sure it will be a good fir for your particular bed, as bed sizes can vary.
The heated blanket comes with ties so that you can fix it to your bed by wrapping the ties under your mattress. This will keep it in place and stop it from moving around, especially if you are a restless sleeper.
The heating is produced from tiny wires inside the blanket, but the material is soft enough that you won't feel them through the material.
The wires are arranged to ensure an even distribution of heat, so there won't be cold patches or just a heated stripe up the middle.
Ideal if you suffer from poor circulation, cold hands and feet, or even some joint pain. The gentle heat can help soothe these problems away.
Related Posts: