From July 2012 a new law in France means that all drivers must carry breathalyzer kits in their car. This law applies to drivers from all countries who intend to drive in France.
The penalty for not having a breathalyser kit in your car is an on the spot fine of €11.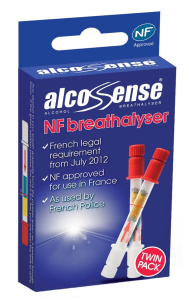 Whether you agree with the new law or not, if you want to drive in France you will need one of these kits. It doesn't matter what your country of origin is, or what your eventual destination country is, if you need to drive through France as part of your journey, you must be carrying a breathalyser kit in your vehicle.
Buy French NF Certified Breathalyser Kits at Amazon
This law applies to drivers of all motor vehicles and motorcycles, although mopeds are exempt.
The wording of the government statement said that a driver must be able to produce one unused, certified breathalyser. The breathalyser must show the French standard certification mark 'NF'. It is a good idea to carry two of these single-use breathalysers to ensure that if one of them is damaged or faulty, you will still have a spare.
Also, if you are stopped by the police and have to use the breathalyser, technically you still need to have one unused breathalyser in your vehicle, in case you are stopped a few miles down the road again! So buy a kit with two or more breathalysers in it, or buy multiple kits, just in case.
Note that the current drink drive limit in France is the equivalent of 50mg of alcohol in 100ml of blood. This is significantly lower than the limit in the UK which is currently 80mg of alcohol in 100ml of blood.
The breathalyser kit that you must carry in your car has to be in date.
It is important to note that standard single use breathalyser kits usually have 12 months before they go out of date.
So if you intend to drive in France this year, make sure that you are prepared and buy a breathalyser kit before you go. And if you bought one last year, check the date on it and make sure it is still in date. If it is out of date, this will not be accepted by the French police.
Related Posts: