In the never ending quest to make the perfect cup of coffee at home, Nescafe offer their Dolce Gusto pod system.
There are a variety of Nescafe Dolce Gusto coffee machines available, with many of them around similar price points. Essentially they are fairly similar, but there are differences in looks and a few bells and whistles like LED lighting and indicators.
The models include the Piccolo, the Melody, the circular Circolo, the Creativa, the Fontana and the Genio. Manufactured by Krups and Delonghi, the Dolce Gusto coffee machines come with a two year guarantee.
The NESCAFÉ Dolce Gusto Piccolo is a perfect example of an entry level Dolce Gusto machine. It is nice and small, compact and available in a couple of funky looking colours.
The clever pod system has been designed for maximum ease of use. They are sealed to ensure freshness and the pods are primed to produce tasty coffee, frothy hot milk and velvety hot chocolate.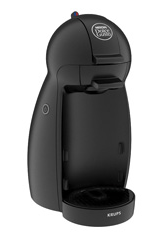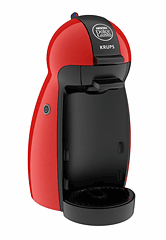 The Dolce Gusto pod system is incredibly simple but there is a lot of quiet technology going on within the machine and even inside the pods themselves.
First fill the water container in the back with cold water and the machine uses a custom thermoblock technology to heat the water to the required temperature.
Lift the locking lid, insert the pod into the machine and slide the lever at the back to start it up.
The pods have a system to generate the correct pressure for the brew you want, for example a milky pod requires fairly low pressure but an espresso requires a high pressure to get the best out of the ground coffee.
There is also a fantastic range of coffee pods available for the Dolce Gusto range, including Americano, Cappuccino, Latte Macchiato, Chococino, Caffe Lungo, shots of Espresso of varying strengths, and skinny versions of some of the above.
The Dolce Gusto pod system really is a no fuss, no mess way of making quality coffee that really taste like proper coffee shop brews.
Related Posts: